Published 17th December 2013 http://www.lds.org/topics/plural-marriage-and-families-in-early-utah?lang=eng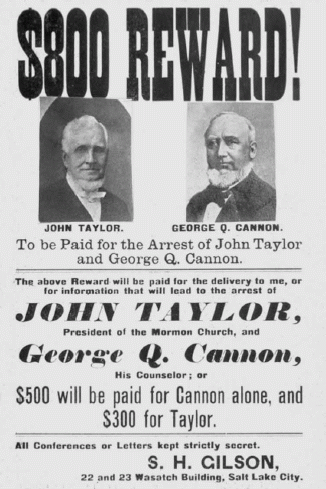 Found this picture as I was searching for something useful to head this post with. I dont think we in 2014 understand how pitted the church was against the United States, or even what challenges faced us because of polygamy. But even now after so many years we are still very sensitive about this topic.
The churches essay on Polygamy seeks to give some framework to the discussion.
Firstly this essay generally only talks about Polygamy in a Utah setting. Much of the challenging genesis of this practise with Joseph Smith is not covered. So as an essay it avoids much of the controversy that plaques questions about Polygamy. I don't know if the church intends to publish an essay on Joseph Smiths practise but for the purposes of this blog I will generally only deal with the information given.
I found the referenced resources just as helpful as the actual essay, full of facts which refuted some myths about Polygamy.
In accordance with

a revelation

to

Joseph Smith
, the practise of plural marriage—the marriage of one man to two or more women—was instituted among members of The Church of Jesus Christ of Latter-day Saints in the early 1840s.

- Note here that Joseph Smith had been practising polygamy many years prior in secret. His death in 1844 was directly related, his command to break the printing press in Naavoo, was because the paper had published accounts of his (and other leaders) practise of polygamy, which he vehemently denied. It is worth noting that the RLDS church (now Community of Christ) believe that Joseph Smith never practised polygamy but that was implemented by Brigham Young.
Thereafter, for more than half a century, plural marriage was practised by some

Latter-day Saints
. Only the Church President held the keys authorising the performance of new plural marriages.

- 'Some' might be a little misleading, the reality was the majority of church leaders practised it, all Prophets did, and most apostles. The last prophet to practise it was Heber J Grant who died in 1945 (only his second wife was still alive when he became president). Polygamy had far reaching effects into Latter day Saint culture.
Latter-day Saints do not understand all of God's purposes for instituting, through His

prophets

, the practice of plural marriage during the 19th century. The Book of Mormon identifies one reason for God to command it: to increase the number of children born in the gospel covenant in order to "raise up seed unto [the Lord]" (

Jacob 2:30
).

- Interestingly this essay dispels this myth in the reference section with this statement:
Studies have shown that monogamous women bore more children per wife than did polygamous wives except the first.

Generally Monogamous families produce more offspring especially when ratios of men and women are equal as they were in Utah.
In 1890, the Lord inspired Church President Wilford Woodruff to issue a statement that led to the end of the practice of plural marriage in the Church. In this statement, known as the Manifesto, President Woodruff declared his intention to abide by U.S. law forbidding plural marriage and to use his influence to convince members of the Church to do likewise.
After the Manifesto, monogamy was advocated in the Church both over the pulpit and through the press. On an exceptional basis, some new plural marriages were performed between 1890 and 1904, especially in Mexico and Canada, outside the jurisdiction of U.S. law; a small number of plural marriages were performed within the United States during those years.
In 1904, the Church strictly prohibited new plural marriages.
-
One of our biggest myths in the church is that Polygamy ended in 1890
. While we have the 1890 manifesto Official Declaration 1 in our Doctrine and Covenants and it seems very clear. Polygamy evolved in secrecy, was hidden from the law, and continued with authorisation by the brethren. Lesser known is the second manifesto of 1904 from Joseph F. Smith that provided for the excommunication of those who continued to practise polygamy. One of our most challenging dichotomies is our Article of faith that says we uphold the laws of the land, when we did not do that in this instance. The other is that despite OD1 and a plea from the Prophet we did not stop.
Today, any person who practices plural marriage cannot become or remain a member of the Church.

- Also little known is that we don't allow people to join the church who practise polygamy even if they come from countries or cultures in which it is o.k. Missionary work in Muslim areas is very tricky. It does beg the question if we believe this is a doctrine that we don't practise because it is the law in the US, what problem do we have with people in other countries practising it where it is not the law? The flip side is also true, in an age of changing understanding of families why aren't we advocating for polygamous families with the hope that we can practise this in the future when its legal?
Plural marriage also helped create and strengthen a sense of cohesion and group identification among Latter-day Saints. Church members came to see themselves as a "

peculiar people

,

covenant
-bound to carry out the commands of God despite outside opposition, willing to endure ostracism for their principles.

- Polygamy did really define and make the church what it is today. We moved to the Salt Lake basin to effectively 'leave the United States' to practise plural marriage openly. While we continually try to distance ourselves from it, it is our defining characteristic.
During the years that plural marriage was publicly taught, all Latter-day Saints were expected to accept the principle as a

revelation from God

.
Not all, however, were expected to live it. Indeed, this system of marriage could not have been universal due to the ratio of men to women.

- It is a myth that many more women existed than men in Utah. In fact there were slight more men.
Still, some patterns are discernible, and they correct some myths. Although some leaders had large polygamous families, two-thirds of polygamist men had only two wives at a time.
Church leaders recognized that plural marriages could be particularly difficult for women. Divorce was therefore available to women who were unhappy in their marriages; remarriage was also readily available.

- The references state that Utah had very easy divorce laws to allow for the practise. So divorce and remarriage were common. This brings up interesting questions about the principle of celestrial marriage and how it was viewed in that time, also how sealings worked if women were married multiple times? This seems inconsistent with our current views on marriage and its importance to our eternal salvation. It also seems inconsistent with our views on divorse.
After the U.S. Supreme Court found the anti-polygamy laws to be constitutional in 1879, federal officials began prosecuting polygamous husbands and wives during the 1880s.
Believing these laws to be unjust, Latter-day Saints engaged in civil disobedience by continuing to practice plural marriage and by attempting to avoid arrest.

- Civil disobedience? Avoiding arrest? Going into Hiding? There is a great story here waiting to be told of the Mormon passive resistance movement!
So some good dispelling of latter day myths here like 'there were more women than men', 'polgamy ended in 1890' and 'polygamy produced more children'. However it really didn't cover the more troubling or conflicting parts of polygamy as it didn't touch on anything prior to 1847.
It also doesn't touch on Polygamy post 1904 - The Fundamental Church of Jesus Christ of Latter Day Saints was started when the church started excommunicating individuals. Apostle John W Taylor even produced a revelation by his father Prophet John Taylor stating in 1886 that 'the great majority of the church would apostasize and abandon polygamy'. (they are still waiting for us to come back to the practise). The irony is that we as a church condemn and persecute them in the same way we were condemned and persecuted in the late 1800's.
I have lots of questions about this topic. How do we deal with all the secrecy (and dishonesty) that existed with the practise? What do we do with Joseph Smith version of polygamy which seems very different to Brigham Youngs understanding? Why do we currently have such an anti-polygamy stance in the church, which stops us from actively proselyting to Muslim families, and upholding civil rights for alternative families? If we only stopped because of the law why aren't we as a church fighting for changes in marriage law so that we can practise polygamy again? But most importantly - If this is a revelation from God (and essential to our salvation) why is it clouded in so much complexity and shame?
Polygamy is our heritage, we either need to embrace it or admit our ancestors were odd.
We need to fight for the rights of others to practise it even if we as a church don't want to.
We need to be more open about the history even if it is embarrassing. This shouldn't be a secret.
We need to resolve some issues around compliance with the law and compliance with the prophet.
Can we as a church shake off the schizophrenia we have with polygamy?